NATURAL STONE FLOORING TREND IN 2021
How to Choose Best Natural stone for Home Villa, Hotel, Hospital, Malls, Towers, Resorts, Showrooms, collages, etc.
Italian Marble is a world on its own. One of nature's most amazing creations. It takes millions of years to produce these natural stones, which is a cluster of calcite and many more minerals. When mixed with the metal strains, it produces the most amazing patterns which end up in the form of floorings, the architecture of which can be seen all over the world.
There are many kinds of Italian Marble is available in the market. The most unique feature about Italian Marble is, it doesn't have a definite name. We are a World's top and India's best leading Manufacturer, Supplier, Exporter, Importer, quarry owner, wholesaler, Retailer, Distributor, Dealer, Trader of the Italian Marble company in India.
The variety is mostly named after the place it is mined from. Talk about Natural stone, for instance, has been named after the Mining country like Italian marble, Indian marble, Brazilian granite, Vietnam white marble, which lies in the integral parts of the World.
Natural stone has classy patterns on them, as can be seen on them in the form of veins, and other forms. The color of the vein is decided by the metal it gets in touch with, during its making, deep inside the mother earth.
The Natural stone decorated your home, villa, hotel, hospital, college, showroom, malls, tower, and projects and also decorates your offices, buildings, community parks. The floorings made from Natural stone add beauty to the building.
All the famous wonder of the world is made from natural stone. Natural stone dealers are spread all across the world. The best of the Natural stone at easy prices could be found in India, Rajasthan, Kishangarh.
Natural stone quality matters on the basis of their look, patterns, the involvement of impurities of offbeat colors as we call it. Which not only adds to the patterned veins but also in a way, sometimes, if unified color gets added, which might make it not a symmetrical part in comparison to another, the process depended on that, especially when if we require similar Natural stone especially like in the case of floorings.
The prices of Natural stone, like diamonds, are never decided. Everything depends on the purity, as it is a natural stone, the texture, the patterns, the color, and brittleness, the polish, and various other factors to decide the quality of Natural stone. But the result of all is sure, that if architecture and planned correctly the best Natural stone or the best marble, the result will lead into beautiful patterned results, which, like a diamond, is forever.
We are the World's top and India's best leading Natural stone Company in India. We offer the widest range of Indian & International Stone like Marbles, Granites, Sandstones, Limestones, Pavings, Rainforest Marbles, Slates, International Stones, International Granites & our exclusive products. We bring you the finest quality naturally occurring colored stone blocks, slabs, tiles, handicrafts, boulders, cobbles, pebbles, veneers, claddings,
Elevation stone,
Mosaic, Tabletop, Statue, Temple, etc.
INDIA'S TOP AND WORLD'S BEST MARBLE, GRANITE, AND STONE COMPANY
Natural Stone Tiles Floor- and wall cladding stone tiles What is the latest trend?
We have been delivering natural stone floors directly to the customer. We never collaborate with brokers. We prefer to our customers purchase the products directly online with our website or our factory outlet showroom. Not only because we want to keep an eye on our price-to-quality quotient but also to make sure that the working conditions are met and that nature is treated carefully. We can guarantee that our products are gained and processed without child labor, forced labor, and discrimination. We comply with human rights and minimize environmental impact.
Back to the seventies
Throughout the decades, we have seen several trends in the natural stone industry. The Bhandari family has brought plenty of new sorts to India and all over the World. Everyone is familiar with the indestructible, colored Marble, Granite, Stone, Quartzite, limestone, sandstone, Kota stone, stone mosaic, etc. which is still often used to decorate home, villa, hotel, hospital, mall, tower, collage, and projects, etc. The colorful marble and granite are also ravenous popular. These Indian stone also called, tinged many interiors in the colors white, green, brown, and purple. Nowadays we still sell maintenance products to our customers for their 387-year old our experience.
Our collection contains various contemporary alternatives to this natural stone floor, such as the beautiful, warm-colored, and somewhat exuberant Mosaic floor called Rangoli. These stones can provide for your home villa hotel hospital tower lobby, kitchen, staircase, and bathroom, or wellness area with a great appearance. We did more than just only introducing new materials: we introduced different sizes and finishes. For instance, we presented Natural stone tiles with free lengths and fixed widths, to create a playful effect and to reduce the amount of waste in the fixing. We also start a new product in our own factory in India in order to polish the stone, which was very unusual these days. In our current collection, we still have the Statuario Charming and white Indian marble whose honed surface treatment emphasizes the beautiful color shades.
Lower costs resulted in the greater interest
Due to the process of globalization, market transparency, and the introduction of the internet, the price for natural stone is most competitive significantly. Nowadays, natural stone is a fair competition to other floorings, such as parquet and ceramic floor tiles. Therefore the interest for natural stone has increased a lot in 2021. Last year's trends brought White and mix of some amount of dark color floors to the center of attention. Natural stone sorts like Marble became very popular. Marble is an Italian and Indian stone with a somewhat white and colored flame. There is also an alternative often called beige Italian marble. We also sell other alternatives like the Golden marble, Green marble, pink marble, Brown marble, black marble, etc. Other names for this stone are Black Granite, Sandstone, limestone, Kota stone, and Slate, etc.
You do not want to have the same floor as your neighbor's, do you?
We have found a good alternative which is called: a Granite natural stone floor with a beautiful stratification. Do you prefer a grizzled color shade? In this case, we recommend you the granite of our collection. Another beautiful dark floor with a rough appearance is the Kota stone. A stone that fits perfectly to a thorough exterior.
Natural stone Trends for 2021
In 2021 we slowly recognize a transformation from white, neutral interiors to a slightly more colored interior. The advantage of natural stone is that the material is timeless. Natural stone always suits your interior, no matter which trend is "in" at the moment. In our collection we sell bright, Statuario marble to create a spacious effect, more preferable the colored marble In a sober and thorough interior, you should choose white floors such as Statuario Italian marble or Banswara Indian marble to create a modest atmosphere.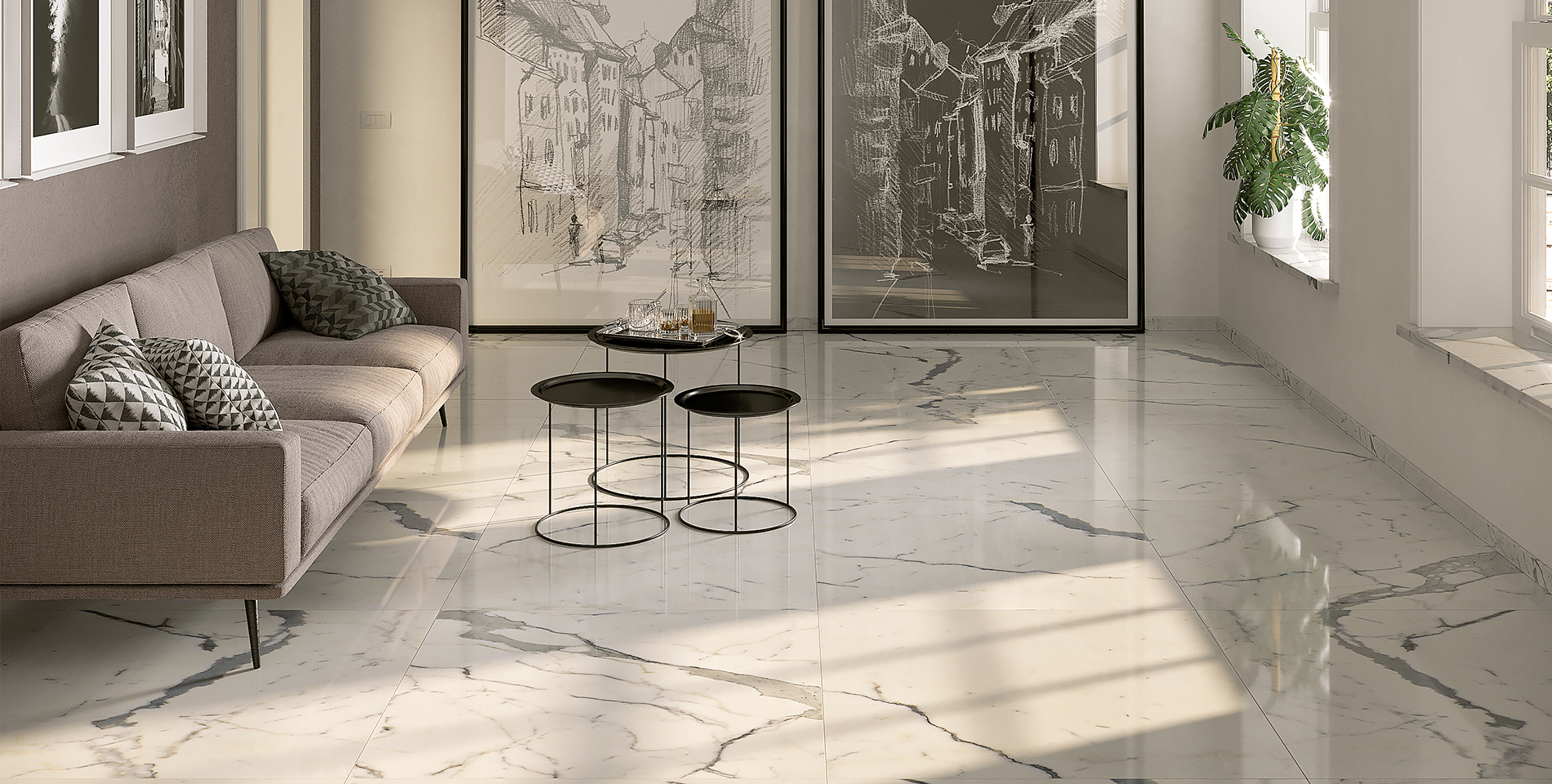 Inspiration Centers
In our showrooms, we will give you personal advice according to your taste and lifestyle. We take our time to discuss your wishes and zoom in on every detail. The special floors from our collection are all placed on large surfaces to show the range of coloring and to give you a relevant example of how a floor will look at your home. Both dark and light floors work very well, and only you can choose which is best for you and your home. Dark floors tend to be more stylish and hide imperfections while light floors tend to show dirt less and last longer.
Many homeowners are leaning towards Rustic stone decor because it's homey and makes any space feel lived in. To help inspire you, check out our website, or visit us for Rustic stone decor ideas and designs for 2022. You'll be ahead of the decorating trends, so your home will look its best throughout the next many years.
In addition to looking chic and trendy, white marble floors set the tone of a cool, contemporary home. They give you a neutral backdrop for decorating in virtually any color. Aquas, greens, bright bold colors or even black and white – they will all go with your sleek white flooring. Italian marble and Indian marble floor colors will be focused on the natural stone and sandstone teak wood stone, Rainforest stone, the warm ones. That's right, cool tones will remain strong even going into the new decade. Dark tones are not completely canceled, but light tone Italian marble looks will be one of the most prevalent 2021 flooring trends.
ADD BY EXPERT AND EXPORT TEAM OF BHANDARI MARBLE GROUP CONTACT 9829040013